CnFashionreps is a new site that allows you to buy items that were left at the agent's warehouse at a serious 50% discount. It's easy, no sign-up, just buy through your agent.
This concept is famous from other large online retailers, only that in the case of agent warehouse deals, you are getting forgotten items, not returned items.
What CFR does is the last piece that was needed to make our hobby a full ecosystem. We already had trusted sellers, direct sellers, agents, wholesalers, resellers and now we have warehouse deals to complete the package.
The different branches of CnFashionreps
CnFashionreps can be confusing at first because the website consists of two branches: Classical wholesale fulfillment service, with prices that are lower than elsewhere, and warehouse deals.
The wholesale portion is definitely worth a good look, but most of us already know how this works, so we will only talk about it briefly. The main focus of this blog post are the warehouse deals.
Table of Contents
CnFashionreps Wholesale
This classical wholesale business is very similar to CnFashionbuy or iFashionstores.
To sum it up in one sentence: Wholesalers do customer service and fulfillment for sellers and make their profit margin by buying large amounts of stocks at a discount. You get customer service, the wholesaler has a small profit margin and the seller can sell large amounts with no merchandising risk. Everyone profits.
CnFashionreps promises cheaper wholesale prices than the competition.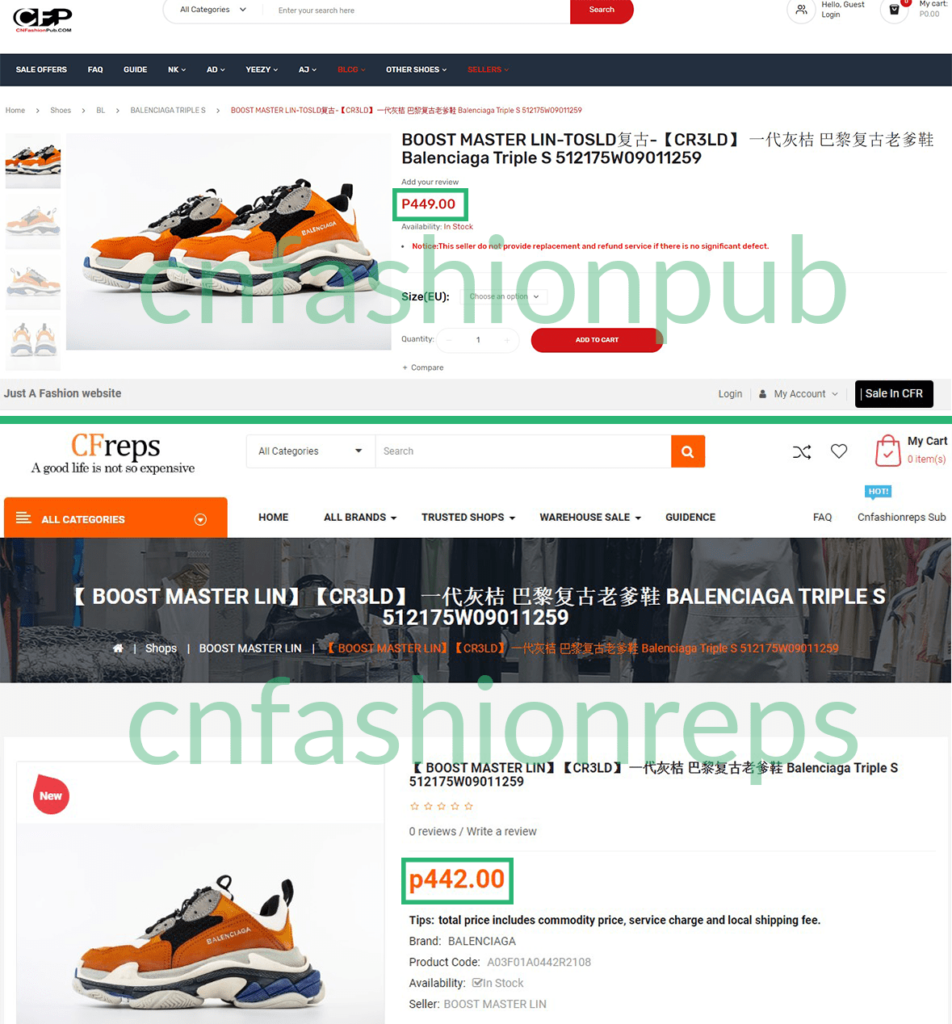 The Price comparison shows that the same item from the popular seller "Boostmaster Lin" is cheaper on cnfashionreps than older competitors, like cnfashionpub
Given that the prices are cheaper on CFR and they offer 15 days no-questions-asked returns, you should use it over other wholesalers.
CnFashionreps Warehouse Deals
What are Warehouse Deals?
Warehouse deals mean that you are buying from the warehouse of the marketplace (in this case your agent, e.g. CSSbuy) instead of sellers or manufacturers directly.
Because warehouse space is limited, all agents can only store your items for free for 90 days. If it's your item that's nearing the 90-day mark you can pay to extend the storage period or let it expire. Many people let it expire, either because they forgot about it or because they didn't consider that they also have to pay for shipping. The agent then supposedly destroys the items, but it's always been clear that they just say that to make you lose any ownership rights. Instead, they supposedly try to sell it or take it home.
The agents already got the items for free and on top profited from your transaction. Additionally, they do really have to pay for storage space. Also, agents are freight forwarders and not direct sellers, it's not their core expertise.
So when CFR offers to buy their leftover warehouse stock in bulk they are more than happy to get rid of it because even at the lowest prices it's a profitable deal for them.
What does CnFashionreps do?
This is where CnFashionreps comes in. CFR buys the leftover stock from different agents, consolidates it in their warehouse, checks the quality, takes pictures and sells it to you, the customer.
CFR gets the items so cheap that even with all the labor and infrastructure they provide they can still pass down the discount to you, you get about 50% off.
How does ordering work?
This guide works for buying wholesale and warehouse deals, but is specifically written for warehouse deals.
Ordering from CnFashionreps is incredibly easy!
CnFashionreps.com Warehouse Deals
Click the button above to get to the warehouse deals.
1. Choose an item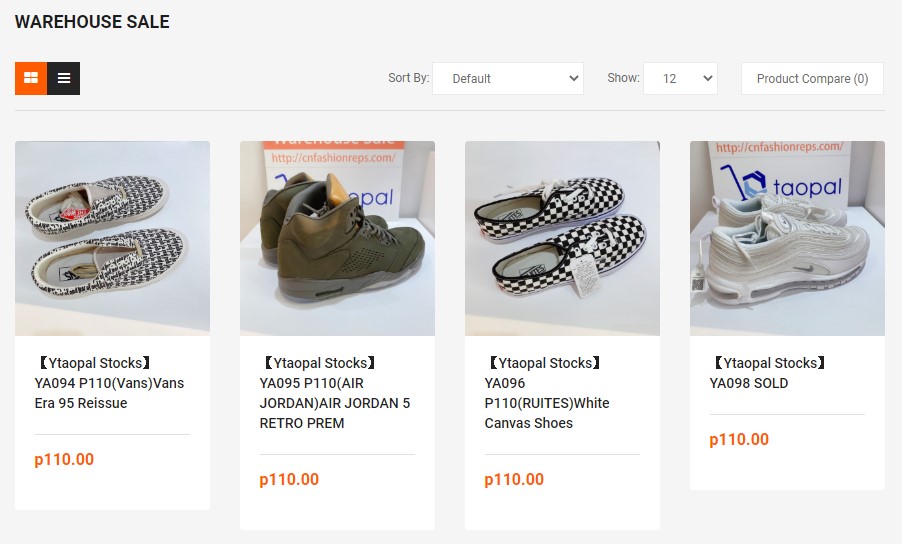 All listings are individual items with a stock quantity of 1.
2. Select a size and add to cart

You can also click the link under "see more details" to see more pictures on Yupoo.
Since the warehouse deal is only 1 specific item, the pictures are of that exact item and not generic.
3. Select an Agent

Open a new tab and make sure you are logged in with the agent you want to use.
Then go to the cart page on CFR and generate a cart link by clicking the agent icon.
CSSbuy only allows you to generate a cart link every 30 minutes, so make sure you are logged in with the right account first.
Frequently Asked Questions
Do I have to create a CnFashionreps Account?
No, they have dock-in integration with the agents. This means your items are automatically added to the agent's cart so you don't need to sign-up on CnFashionreps.
What can be said about the items?
They are at least 90 days old. That's all. Don't expect throw away batches here, the reason they end up here is usually that people couldn't pay shipping. These are not returned items, they are also not used. These are new items that have been sitting in the warehouse for 90 days.
What agents are supported?
CnFashionreps currently supports CSSbuy, Ytaopal and Basetao. They have dock-in integration. Wegobuy integration is planned, but not supported at the moment.
Does CnFashionreps support direct shipping?
No, CFR doesn't directly ship internationally. Only the agents listed above are supported.
Is this an official store of one of the agents?
No, it's definitely not official. We don't know the identity of the owner, so everything is possible, but if it was one of the agents selling their leftover stock, they wouldn't allow you to use another agent.
Does CFR only allow buying warehouse stock from the same agent that you're buying through?
No, CFR consolidates stock from all different agents in their warehouse and ships items to any agent, no matter where it originally came from. So you can buy items from Ytaopal warehouse with a CSSbuy account
Are the items returns?
No, the agents return items to the sellers, so they don't have returns themselves. International returns occur (maybe 1 in 10,000 shipments), but are so rare that they couldn't count on them.
Is CnFashionreps legit?
Yes, the agents confirmed it. With agent shopping all the risk is carried by the agent anyways, so as long as you have a trustworthy agent, which all supported agents are (more or less), you are absolutely save.
Is CnFashionreps related to CnFashionbuy or CnFashionpub?
No, they are competitors
How about returns?
For wholesale items, there is a 15 day return, no questions asked. But for warehouse deals returns are not accepted.
Where can I see the prices?
The P has to be substituted with ¥, so prices are in Yuan.
You can find all contact infos here: Seller Listing
Disclaimer
CnFashionreps.com is an external website that we don't have any stakes in. We do not own or sell any items listed there and are not responsible for their business. RepArchive clearly distances itself from CnFashionreps. Nothing on this page should be interpreted as advising you.