Rep wholesalers act as a fulfillment service between dealers and agents. They buy and store big quantities from sellers and sell them to you through an agent order. This eliminates the customer service problem many sellers have. And before you say another middle man just marks up the price, keep reading, this might not be the case. An example that recently rose to prominence is ifashionstores.com. For the same amount of money you get great benefits like professional customer service, discounts, coupons, and other rewards.
iFashionstores is shutting down May 2020
iFashionstores is shutting down, effective May 19, 2020. This is due to them starting over on a new software system. They'll use that opportunity to find a better brand name, which has yet to be disclosed to me and the public. RepArchive will keep you updated.
We still keep this post up, because it generally fits for all wholesalers, not just iFS
I ordered from iFashionstores weeks ago and will tell you why they absolutely convinced me.
iFashionstores is not the only wholesaler, there's 1 other option which is CnFashionbuy (short CFB, and all subsidiaries, like CnLuxuryPub, CnFashionpub). I wanted to make this about all of them to stay neutral, but got the info that they are not fulfilling orders anymore. I cannot confirm or deny this. But I haven't heard from them in a long time.
7 Reasons to buy from iFashionstores or other wholesalers
1. Lowest Price guaranteed
iFashionstores places bulk orders from the factory. That way they can offer the same batches for the same or better price.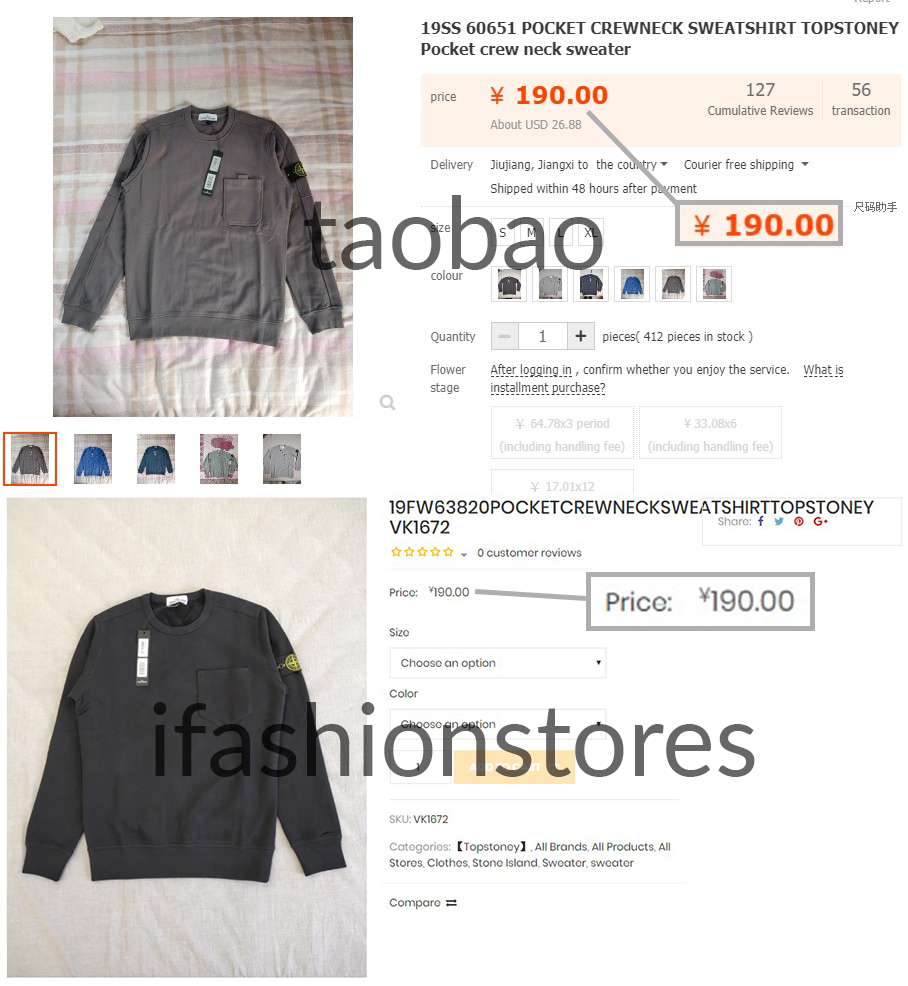 The price for this Top Stoney crewneck is the same on ifashionstores and taobao
They give a guarantee that you won't find the same item for cheaper. Shipping is a flat fee of ¥10, which is below average.
CFB used to charge about few yuan on top. You could see that when BM Lin P450 batch goes for ¥526 on CFB. Still a great deal for their service, but getting all these extras and services for the same price should make it clear that there's no reason to buy from the taobao stores of sellers that are on iFS.
2. Curated and exclusive items
Items are check for quality before they are added to the store. iFashionstores is able to source items before they are released elsewhere and exclusive items that other sellers don't deem profitable.
The items are from trusted sellers, and even if the seller is not fully trusted, the wholesaler takes the risk, not you.
3. Combined orders from different sellers & Stock security
Combining different sellers and ordering them in 1 order from 1 place speeds up your delivery, might benefit you in discounts and saves you shipping fees. Always a good idea.
Because they purchase big numbers beforehand, they have stock of items that are sold out elsewhere. Since they sell higher numbers and combine items from different sellers, deliveries are packed and picked up more frequently.
4. Seller backed & supported
We've seen it with CFB, sellers will jump on board and only offer their products through wholesalers. They'll happily let someone else worry about returns and customer complaints and communication.
When the moment comes and wholesalers are the only option you'll happily look at your acquired returning customer benefits with the wholesalers.
5. Wegobuy Agent integration
This is a double-edged sword. On the one hand, the agent provides a high level of trustworthiness, international shipping, QC pics, detailed photos, customer service and customized packing. We've said multiple times why agent's are definitely worth the extra bucks and give you that much more security.
On the other hand, it takes an extra step to place an order through iFashionstores and then the agent instead of taobao and then the agent. We will talk about those steps in the How to Order section.
iFashionstores already announced that they will have full wegobuy integration, like CFB has, so everything will fill in automatically.
6. Customer service
There are some very good sellers who can't handle customers very well. This might be a language or cultural barrier. Or they might be better at sourcing items than communicating.
Due to the scale of their operation, it doesn't make a lot of sense to invest in a customer service team. That's different for iFashionstores. They claim to answer every customer question within 24 hours. From what I can tell their English is far above average.
You might be inclined to skip over this paragraph. Because usually, the deals offered from Chinese sellers tend to either be still expensive, have no winner drawn or be a way to get rid of trash batches. But iFS offered us the following coupon that you can't go wrong with!
RepArchive Exclusive Premium Coupon
RepArchive has a special coupon that's better than all of these:
This is not linked to minimal spending. This is basically free items! The only reason that it costs you 9.9 is so that you can't make unlimited new accounts to grab this.
How to Order
Find the items you want on iFashionstores.com
Add to cart
Sign-Up on iFS
Add the lucky bag to your cart and use code 'RepArchive'
Click purchase. You don't have to pay.
Copy the order number
Open the ¥1 wegobuy.com purchase link
Change the quantity to the yuan from the invoice in your email inbox
Add a note with your invoice number from the email
Add the domestic shipping fee ( ¥10)
Purchase through Wegobuy (RepGuide)
Do the quality inspection
Internation shipping
F.A.Q.
We got lots of the same questions about this so here are the most frequently asked questions
I got a invoice via Email, do I have to pay? Where do I have to pay?
No, the invoice is just so you get a order number and the price. Then you have to copy the order number and price and paste them on wegobuy according to how to order
Is Wegobuy the only agent this works with?
Yes, for now it's only wegobuy that's natively supported. It's not possible to use this with another agent like CSSbuy, Ytaopal, Superbuy or Basetao. You can try to place an order through expert shopping though.
Do they ship directly?
They don't ship directly. Fulfillment by wegobuy only.
Is this a scam?
No, I placed an order myself and got the items delivered to wegobuy, with matching warehouse pics.
What is the lucky bag thing?
Think video game loot box. It's a random item that would usually cost that much.
If you use the code 'reparchive' You get one that's worth ¥70 for ¥10. They'd make it free but then people would make new accounts. It gets delivered instantly with your order.
What's in the lucky gift bag?
According to iFS itself, it's either 1 pair of shoes, 3 pairs of socks or 2 pairs of underwear - all in your size. But in the end it's a mystery :) But either way, that's a lot for ¥9.9 rmb.
Are there more lucky bags?
If you are for some reason against supporting us you can get the public gift bags. But they are worth less and you only get them after you got your first order.
Disclaimer
When I first posted about iFashionstores I got a great response from the community, so they got in contact and offered me the special promotion code. When you use that code you get a great deal with the gift bag and we get a tiny portion of the sale to finance our site. Thanks for helping, everyone benefits.
You also know that I'm partnered with wegobuy and when you purchase through iFashionstores it's not through my wegobuy link. So I don't talk about iFashionstores for profit, I bring them to your attention because I sincerely think you should use them.
As always, we don't sell the items you find there. We are not involved with the sale. We also don't regularly check what items they have for sale or if they infringe on anyone's rights. Do not consider this post to advise you to do anything.