Once the items arrive in your warehouse, your agents sends you quality control pictures, so called QC Pics. Some call the PSP Pics. These pictures are your last key step before committing to international shipping, so making sure your item passes is essential.
Check if your items arrived in the Warehouse
Go to your order overview to see an overview of all you ordered items on wegobuy, or superbuy respectively. The order status shows you where your items are.
RL = "Red Light", Failed a QC check
GL= "Green Light", Passed a QC check
Take a look at the QC Pics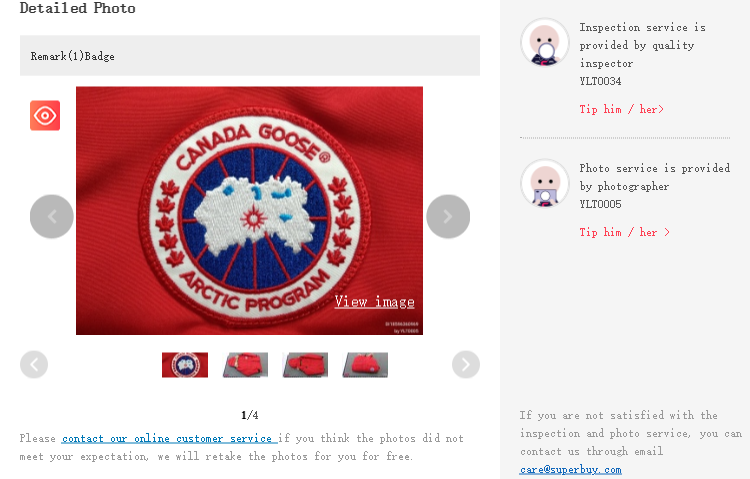 When available you can view the inspection. Click view image to see the picture in full resolution. Use the arrows to get to the next picture. Click view image to see the fullsize image. If you inquired detailed photos like we explained in RepGuide #1, you'll see those here. You can still inquire more photos at this time.
Compare to items from the same seller
There are multiple things you should compare it too if you are not sure what the item is supposed to look like from your personal memory.
First you should go back to RepArchive and search for more pictures of this item on reddit as we explained in RepGuide #2. This will tell you whether you got the same batch. There's a possibility you got an item that was better or worse. 
Compare to retail pictures
Simply use the Google image search for this. We personally find grailed.com very good for this. There is a chance to get knockoff pictures from there, but the pictures are all pictures of physical items and not computer generated. To search on grailed follow your Google image search with site:grailed.com. 
Make your decision
If the item doesn't pass your quality control based on the QC pics you can try to return it. Usually you have 7 days to do so. But if it passes you can ship it to your front porch. We'll explain how to do that in our next guide.
<table class="wp-block-table"><tbody><tr><td><em>Happy to help.<br></em><a rel="noreferrer noopener" href="https://reparchive.com/discord" target="_blank"><em>Visit our Discord</em></a><em>&nbsp;to get help from the whole community.</em></td></tr></tbody></table> <table class="wp-block-table"><tbody><tr><td><strong><em>Disclaimer:</em></strong><em>&nbsp;</em><a rel="noreferrer noopener" href="https://ch-webdev.com/tos/" target="_blank"><em>Terms of conditions of CHWD</em></a><em>&nbsp;apply.&nbsp;Nothing contained in this guide/email or on our network shall be interpreted as advising you. Act responsible and obey the law.</em></td></tr></tbody></table>