Welcome to the advanced section of the RepGuide. Today we'll explain to you how you redeem discounts. They are usually exclusive, for instance from our newsletter, because otherwise the seller would just change the price on taobao. This will be a quick guide.
Open a Wegobuy / Superbuy Item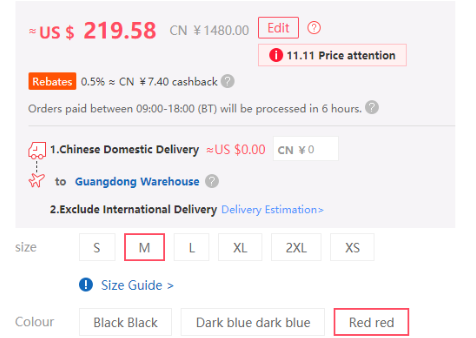 Use reparchive.com to find an item and open the find on wegobuy link. Then select the options such as size and color.
Edit the price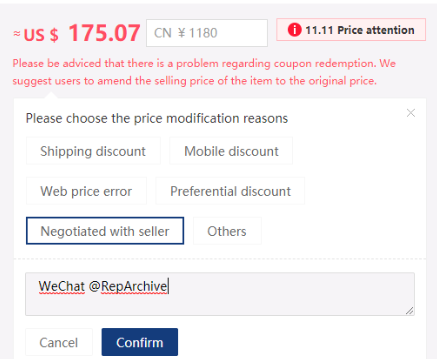 Click edit and type in the new price. Then select a modification reason. If negotiated, use negotiated with seller. If it's a general discount, such as a RepArchive discount select preferential discount.
Leave an order message
This message is transferred to the seller. Definitely leave your name, preferably also the way you contacted the seller if you negotiated the price. If it's a RepArchive discount write RepArchive. For instance, if we negotiated a discount on wechat, we would write "discount as negotiated on wechat @ reparchive".
The following procedure
The seller can approve or decline your purchase order. If they aren't sure who you are they might also ask  you again on WeChat or whatever you used to contact them. Pay attention to your means of communication and Superbuy mails to save time.
<table class=""><tbody><tr><td><em>Happy to help.<br></em><a rel="noreferrer noopener" style="" href="https://reparchive.com/discord" target="_blank"><em>Visit our Discord</em></a><em>&nbsp;to get help from the whole community.</em></td></tr></tbody></table> <table class=""><tbody><tr><td><strong><em>Disclaimer:</em></strong><em>&nbsp;</em><a rel="noreferrer noopener" href="https://ch-webdev.com/tos/" target="_blank"><em>Terms of conditions of CHWD</em></a><em>&nbsp;apply.&nbsp;Nothing contained in this guide/email or on our network shall be interpreted as advising you. Act responsible and obey the law.</em></td></tr></tbody></table>