This guide will explain you how to find trusted Dealers, contact them and buy from trusted sellers via Superbuy Expert Service or wegobuy expert services from Taobao or Yupoo.
Finding Trusted Sellers
As for everything China related, RepArchive is your best bet.
We have a page dedicated to trusted sellers here. Just click one and read the description to find out where and what they sell.
We also have top stores here. These are so popular and so many people bought from them that you can assume that they are a good address.
The front page always features selected items that are good deals from trusted sellers**.**
Yupoo

The trusted dealer links might send you to Yupoo. Yupoo is a widely used image collection, but sellers use it to present their products. Each product gets an album. You can browse category to better find items. You cannot order directly through Yupoo. You have to use your agent.
To place an order you have to know the price, of course. Some sellers designate the price in the name of the Yupoo album, for instance trusted seller Nina puts D100 to designate $100. In case they don't you have to ask them via WeChat, you can find the contact information on RepArchive.
WeChat
WeChat is the most commonly used chat messenger app in china. Download it from the app store and register. Then add the trusted sellers and message them.
Buying via Superbuy/Wegobuy Expert Service

Buying via Superbuy Expert Service or Wegobuy Expert Service function identically. They are used for buying items that aren't on Taobao. The agent buys an item for you. This comes with a fee of 10%.
Next to the category field you should paste the link. In the description paste the link again and specify size and other things that the buyer has to know so he or she can order the right item.
Buying via a 1-Yuan Link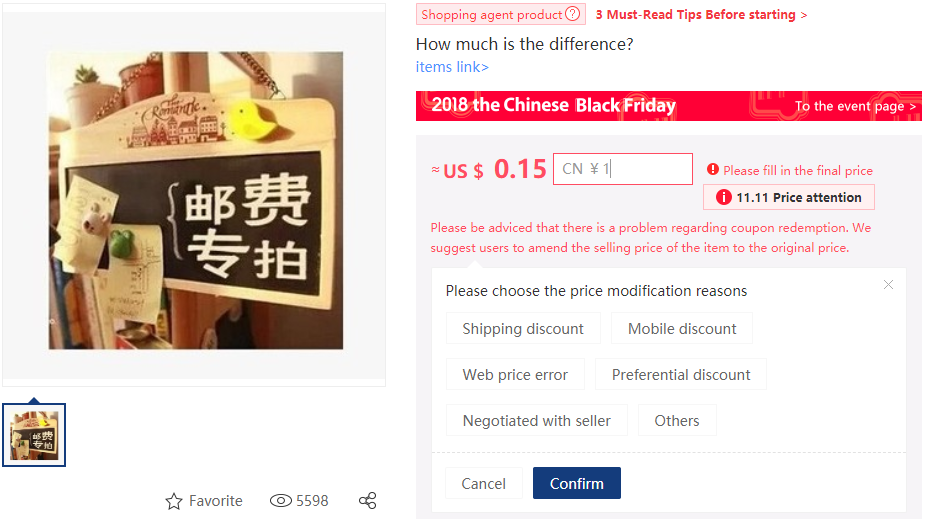 1 yuan links, also called 1 rmb links or tokens, are placeholder toabao items that usually cost 1 rmb that can be adjusted to fit the price of any item you want to buy from the respective seller. This eliminates the need to use the expert service which costs time and money, so it's strongly suggested.
Most trusted sellers have 1 rmb links set up. Find on Wegobuy links in the RepArchive Trusted Dealers section are direct links to tokens. You can also ask the seller for a link to their token.  If the seller offers you to buy via token, do it.
Buying via a token works exactly as redeeming a discount (RepGuide #8). You just edit the quantity. Do not forget to specify which item exactly you want in the description (e.g. Yupoo Album Name).
<table><tbody><tr><td><em>Happy to help.<br></em><a rel="noreferrer noopener" href="https://reparchive.com/discord" target="_blank"><em>Visit our Discord</em></a><em>&nbsp;to get help from the whole community.</em></td></tr></tbody></table> <table><tbody><tr><td><strong><em>Disclaimer:</em></strong><em>&nbsp;</em><a rel="noreferrer noopener" href="https://ch-webdev.com/tos/" target="_blank"><em>Terms of conditions of CHWD</em></a><em>&nbsp;apply.&nbsp;Nothing contained in this guide/email or on our network shall be interpreted as advising you. Act responsible and obey the law.</em></td></tr></tbody></table>