Weidian is a new Chinese shopping site for C2C (Customer to Customer) purchases. It's very liberal with item restrictions and low fees are passed down to the buyer. Learn how it works and how to order.
RepGuide went from mail list to restricted to registered users to absolutely free access to everyone in 2020!

Feel free to subscribe to our mails to show your support for freedom and transparency and receive free quality content
What is Weidian.com?
What's the difference to Taobao?
Weidian is a modern site, designed with mobile-only in mind. There is no desktop version of the shopping section.
Weidian doesn't seem to restrict reps. They can even keep their original name. Every seller has their WeChat linked. It also seems that it's easier and cheaper for sellers to open and operate stores.
This lures in more scammers than taobao, since they have to leave a hefty deposit to open a taobao store. Other disadvantages are the missing desktop version, the limited search capabilities, no image search and that there aren't as many tools developed.
Searching on Weidian
We prepared a link for your weidian search (works October 2020): https://h5.weidian.com/m/new-search/index.html?disableHeaderRefresh=1
Finding the right words for the search query can be heard, since it is in Chinese. You should just try to use the english term, some sellers write their titles in English. If that doesn't work the simplest way to try is using an online translator. If items have a unique code from the retailer (e.g. XX9999), such as Adidas and Nike, searching for this is a very good idea. Alternatively you can either browse the websites of familiar retailers and once you found the items you can switch your location/language to China and copy the title, or you try to find the retail items on taobao. When copying a title less is more, try to find out which part is the brand and copy that.
Sometimes, the site doesn't return any search results. If you can't search on weidian directly, your best bet is searching the RepArchive index: https://reparchive.com/marketplace/weidian-com/
Searching inside a store on Weidian
You can also search inside a store on Weidian.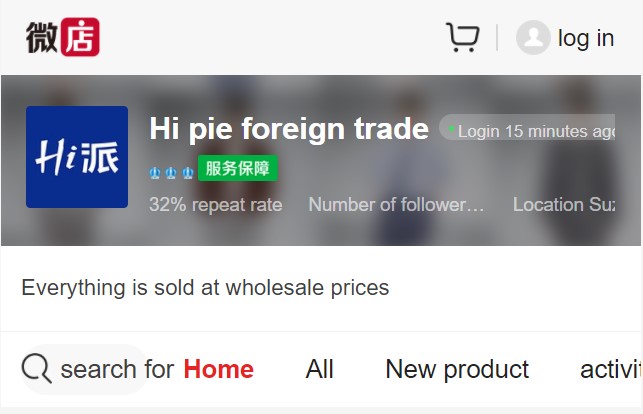 All you have to do is type inside the "search for" field on the store overview page.
The same logic applies here
You can confirm that it's only searching the store by looking at the URL: it should have a "tb_search" and "userid" tag that matches the store ID.
Contacting the Seller on WeChat
One feature of Weidian is the integration of WeChat for better communication with sellers. Clicking on any Shop will display that seller's WeChat QR Code.
You can screenshot the QR Code, go to WeChat and click "Scan". There you can load an item from your camera roll.
Translating Weidian to English or any other language
If you are wondering why your weidian is in Chinese, learn how to translate weidian.
How to buy from Weidian
You cannot buy from Weidian sellers directly and most sellers wouldn't ship to Europe.
Use an Agent
You have to use an agent. You can read more about the role of an agent here. We recommend WEGOBUY, as a reliable, trustworthy and beginner-friendly agent. That's why we chose to use WEGOBUY for this tutorial.
Weidian Buying Tutorial
First, you have to copy the link from the weidian website.
After you logged in with your account on the wegobuy's website you simply paste the link in the search field.


Then you click "Buy for me". This might take a few seconds.
Fill in Shopping Agent Order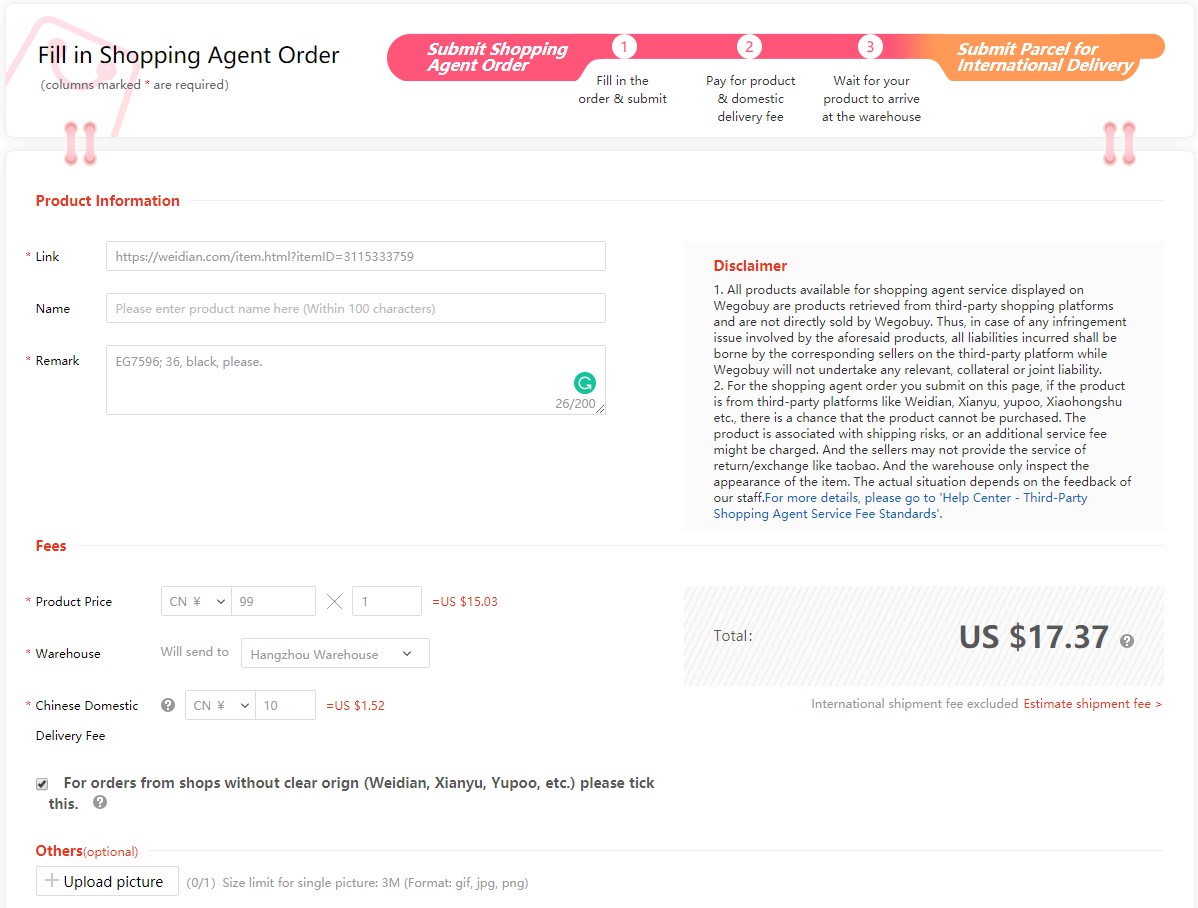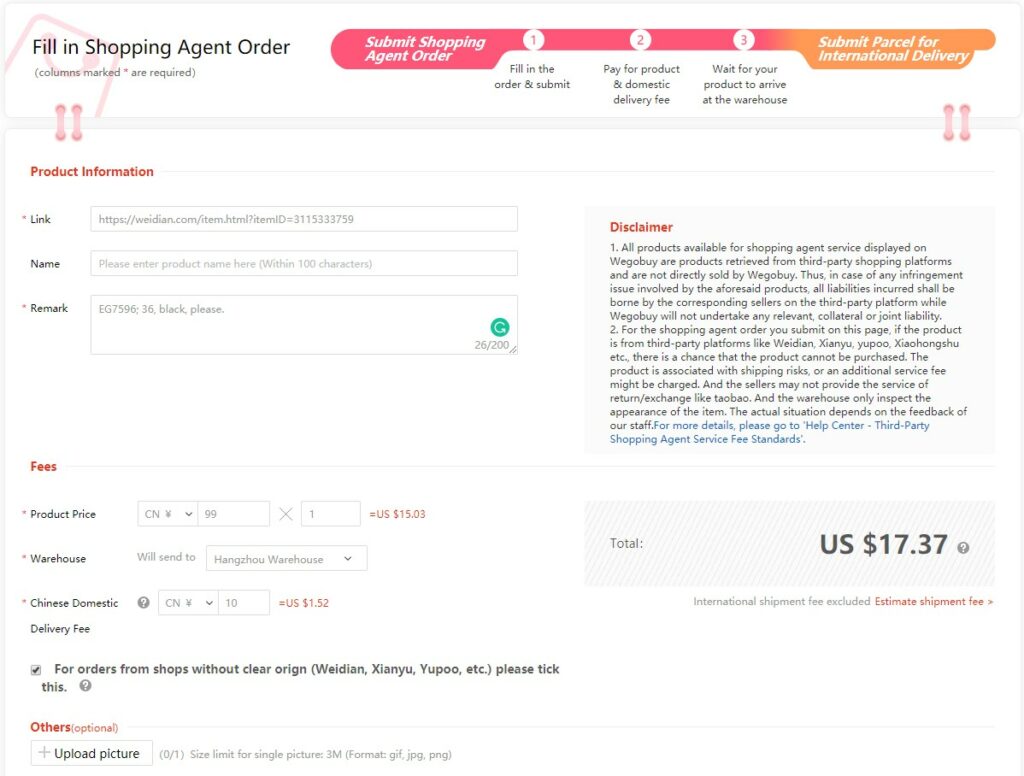 Required Info:
Link: This should be automatically filled, it's the link to the weidian item
Name: the name of the item is not required. It helps to specify the item type (e.g. "Shoes")
Remark: Write the option from weidian. Make sure to include color and size. Make it simple for the agent!
Product Price: Copy this from the Weidian listing
Domestic Delivery Fee: Copy this from the Weidian listing from the freight field
This example above shows you where to look for the values.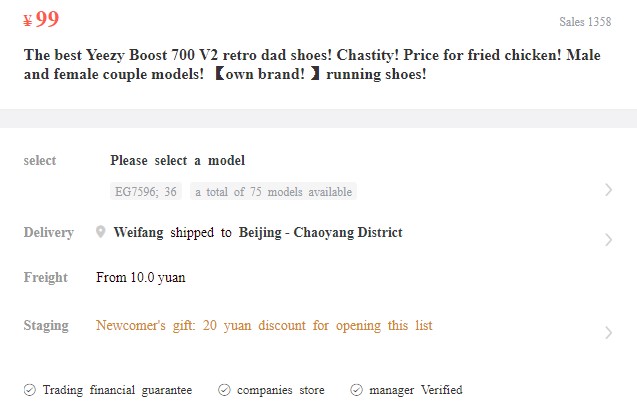 Other agents, whether it's Sugargoo, CSSBuy, Basetao, Ytaopal or Superbuy have a very similar interface that requires you to give them the same information
Finishing the Order
Simply add to cart or buy now. From there on it's the same as any taobao agent purchase. If you are not familiar with the process you can follow the RepGuide from Step 4.
Good to know
Return Rate
When you look for Weidian in public forums or our discord, you'll find that lots of people talk about the return rate. The name return rate on weidian is sort of misleading.
Return rate means how many customers come back to place a second order. It does not mean how many items are returned. This means that a higher return rate is better. When deciding between shops a high return rate is a very good sign.
A high return rate means that buyers were happy with their order and came back to buy more. A low return rate means they did not come back for another order. Obviously, a low return rate is not as bad when you are shopping for expensive items, since it's less likely that customers buy multiple expensive items from the same shop.
The more foreigners outside of China buy from a store the less useful return rate gets as a customer satisfaction indicator. That's because we don't know if the agents always use the same account to purchase. If they do it increases the return rate inorganically, if they use different accounts they actually hurt the seller.
Disclaimer:
Terms of conditions of CHWD
apply. Nothing contained in this guide/email or on our network shall be interpreted as advising you. Act responsible and obey the law.