This is a more detailed look at something we mention in the RepGuide, how you track your parcel after you managed to save shipping costs by following our guides. This comes in handy after you shipped it with EMS or DHL or whatever your favorite shipping service is. This method of parcel tracking is good for any agent, definitely for Superbuy/Wegobuy or any seller who provides you with a tracking number.
What shipping services is this good for?
EMS
DHL Express
4PX
EUB SZ
PostNL
China Post
and more.
Tracking your parcel
How to find your tracking number
You can only find your parcel after it's been shipped for a few hours. Simply go to the wegobuy parcels section or Superbuy parcels section. From there you just click on your parcel. Then you should see this screen.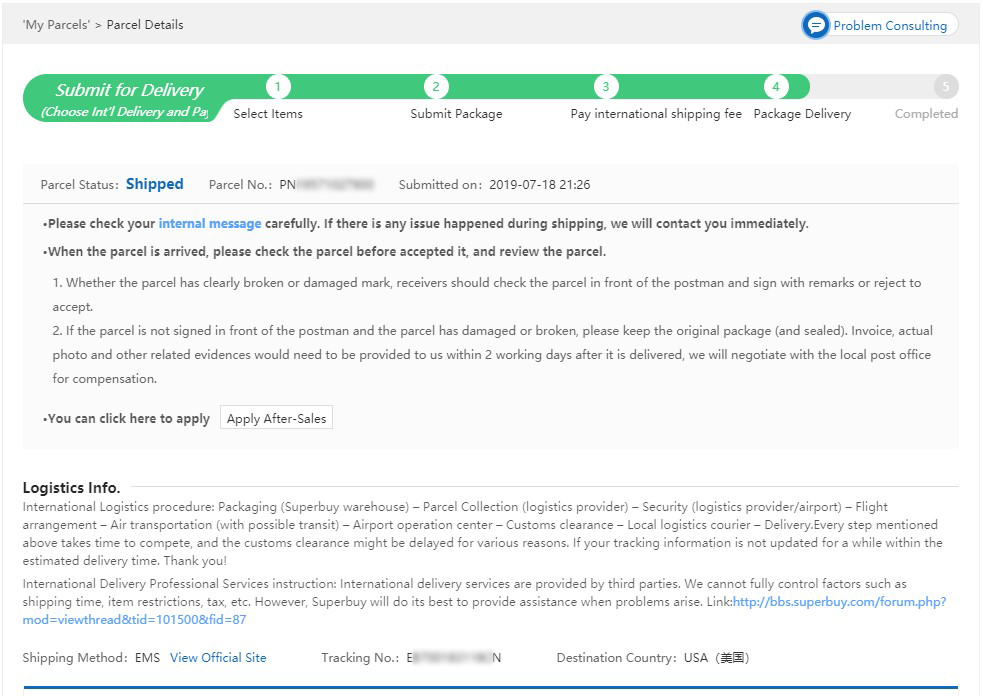 Here you have to copy the blurred number at the bottom of the screenshot, it should be quite high on the website. This is your international shipping tracking number.
How to track your parcel
I've always preferred and recommended 17track.net. Go there and enter your tracking number. Then click on the orange button track.
On the next screen make sure to check English in the bottom right corner. This will translate everything for you. Sometimes, when it says that the parcel cannot be found, the auto detection failed. Click the shipping service's name to switch to another one. That's all, you can see your parcel's last status.
Alternatives
Alternatively you can use trackingmore.com, it's basically the exact same. Under circumstances it's advised to use the shipping services website for tracking. All 3rd party sites are most likely only seconds behind the official tracking. Some official shipping service websites are really bad and hard to navigate or translate.
Accuracy of information
The shipping services website should normally be the most accurate, because it where the others take there information from anyways, so this means taking it directly from the shipping service saves you a relay station. But in reality 17track and trackingmore are probably the best, because you know you can track your parcel there, no matter the service.
Of course we are not responsible for the accuracy of any information.