Users reported delays with EMS and China Post, both owned by China Post Group. There's a silver lining: A new rail route to Europe.
This post gives you an update from primary Chinese sources and the United Postal Union (UPU), the United Nations Postal Agency, to hopefully clear things up. The news was just published yesterday. The personal travel, import and shipping restrictions due to the Coronavirus also affect shipping services.
Thanks to a member on our discord, who just so happened to visit the Chinese EMS site on the day of the publication of the news.
TLDR; What this means for you
The delay is because of COVID-19, as you might have expected. If you've been waiting for your reps parcel, an end is in sight, due to the new Rail Route to Europe. Rail freight should also be cheaper in the future.
We cannot tell you when it will finally arrive, but some of our members just saw their first update in the shipping tracker since February. If your shipping hasn't been updated in a while, check again.
Press Releases
The following are excerpts from official press releases. They are translated and shortened.
United Postal Union Update
Between 28 January and 18 March, 89 messages were distributed among postal operators by the UPU. These messages included one from Hong Kong, a Special Administrative Region of China, on 30 January, noting that processing had been disrupted by the spread of the virus. A major problem at this time was the increasing number of flight cancellations making the delivery of post almost impossible.
March 20, 2020
Source: http://news.upu.int/no_cache/nd/keeping-the-mail-flowing-how-the-worlds-postal-operators-are-confronting-covid-19/
EMS / China Post: New Postal Route China-Europe Train opening
Shenzhen Customs opens a new channel for international mail export by linking "China-Europe Train"
At 10 am on March 21, two vehicles with a total of more than 350 bags and a total of 12 tons of international mail exported under the supervision of Shenzhen Post Office Customs. They [...] shipped to 18 European countries including Britain, France and Germany.
Recently, the global new corona pneumonia epidemic situation is severe. International flights to and from China are suspended and reduced, and many international air mail routes are blocked, which affects international mail transportation.
In order to ensure the smooth export of international mail, the Customs of Shenzhen Post Office opened a "Europe-China Express" "temporary mail route" for postal enterprises as soon as possible to ensure the smooth departure of international mail. Through this "temporary postal route", the export mail is transferred from Shenzhen Customs to Chongqing Customs, and after the quick inspection and release, the original box is directly boarded in the China-Europe train and exported to European countries.
[...] At the same time, the rail freight volume is larger, and the cost is far lower than air and road transportation.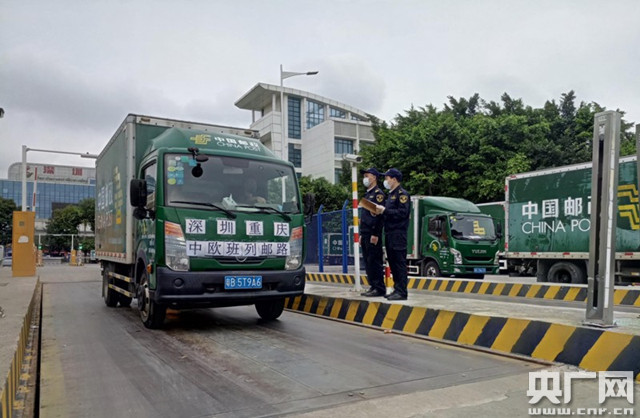 New China-Europe Postal Route, Copyright China Post
March 26, 2020
Source: http://www.chinapost.com.cn/html1/report/200342/3344-1.htm
EMS / China Post Update from the Chinese Website
Announcement on the time limit for exporting international, Hong Kong, Macao and Taiwan mail during the epidemic
Dear Customer,
with the outbreak of new coronaviruses at multiple points abroad, some countries and regions have adopted a series of prevention and control measures, and airlines have significantly reduced or stopped international routes, resulting in suspension or delay of overseas postal services, the impact of mail transportation capacity, export to international and Hong Kong and Macao Taiwan mail delivery time has been extended to a greater extent than usual.
China Post will make every effort to protect your mail service. You can inquire about the abnormal postal service information and mail delivery status of relevant countries and regions through the China Post www.ems.com.cn official website [...] We apologize for any inconvenience caused by the extended mail delivery time.
March 24, 2020
Source: http://www.chinapost.com.cn/html1/report/200342/2209-1.htm
Prevention Update from the Chinese EMS Website
In response to the significant reduction in international passenger flights at various ports, China Post restarted the peak season hub function of Zhengzhou Port, booked cargo flights to Europe and North America, [...] and carried out mail distribution work across the entire network. [...]
Affected by the epidemic situation, the number of passenger flights has decreased significantly, resulting in a shortage of aircraft belly-cabin resources, especially in the context of tight international air cargo resources. [...]
Closed management and operation of all operation sites, regular disinfection, customs declaration and inspection department and other key areas to disinfect every two hours. [...]
March 23, 2020
Source: http://www.chinapost.com.cn/html1/report/200342/1347-1.htm
Check out RepLadies.co
Now that everything seems to be going back to normal, at least for shipping, you should check out RepLadies.co. It's our site for Ladies and should get the same attention.