Starting today Sugargoo will allow you to purchase a "personalized mask" in exchange for points and ¥2. Learn how to order and if this is a good deal.
Payment & Ordering
You can add the mask to your cart here: https://sugargoo.com/index/item/index.html?tp=mall&tid=330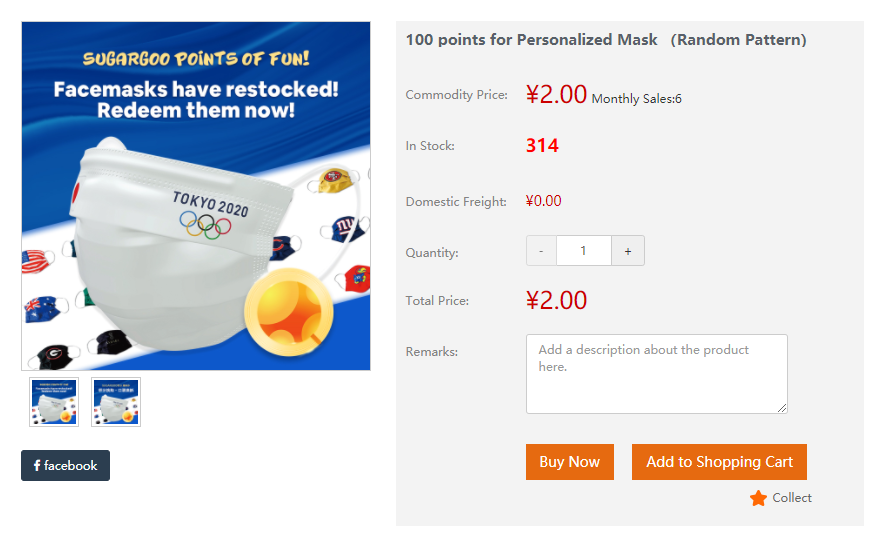 It shows the price of ¥2 (< 30 Cents USD) which you have to pay upfront.
You also need to have 100 points, which you can check here: https://sugargoo.com/index/member/integralcoupon/index.html

As you can tell, the 100 points are not part of the item price on the actual order page. That means you can order the mask without having enough points, but they will cancel your order the next day.
The masks are individually packaged.
There are no refunds for this order.
How do you get points?
You get 1 point for ¥1 spent on shipping. That means if you spent ¥100 ($15.50) in the past, which should be any order, you should have enough points in your account.
Design
You could say the name "personalized mask" is a bit misleading, because you will get one of the following designs, randomly drawn.
I assume that's not the whole design pool, as different designs are shown in other places.
Sugargoo makes it clear that these are not tested as surgical masks.
Is this a good deal?
The question highly depends on how you value the masks. Even if it's a lot cheaper than buying a mask the regular way, if you don't need a mask it's not a good deal.
A key factor is how you can use the points another way. You can exchange 1000 points for ¥10. Using that metric the 100 points you spend here are worth ¥1. So essentially you're paying ¥3 for 1 mask. That's 40-45 Cents USD. I'd say that's an acceptable price for a printed mask, but not "free".