tldr; CityGoBuy admitted that they don't have the funds to let you withdraw your money or issue refunds. We can't say with 100% certainty that they are scamming now, but you should try to take your money and leave, with the help of PayPal if necessary.
Thankfully, we haven't had to warn you about any shady business practices in a while, but it's time again.
Quick history of CityGoBuy
Citygobuy opened in the first quarter of 2021, RepArchive reported on their opening and closed with the remark, that it's too early to say whether they are legit or not.
For the next 1.5 years, they largely stayed out of trouble.
In 2022, RepArchive called them out on their high prices, despite their service quality that's average at best. They lowered them a little bit, but we still decided that we can't feature them anymore.
Lately, I noticed that most post on their subreddits were complaints. At the same time, a user spoke out on our discord, saying that he can't withdraw his balance.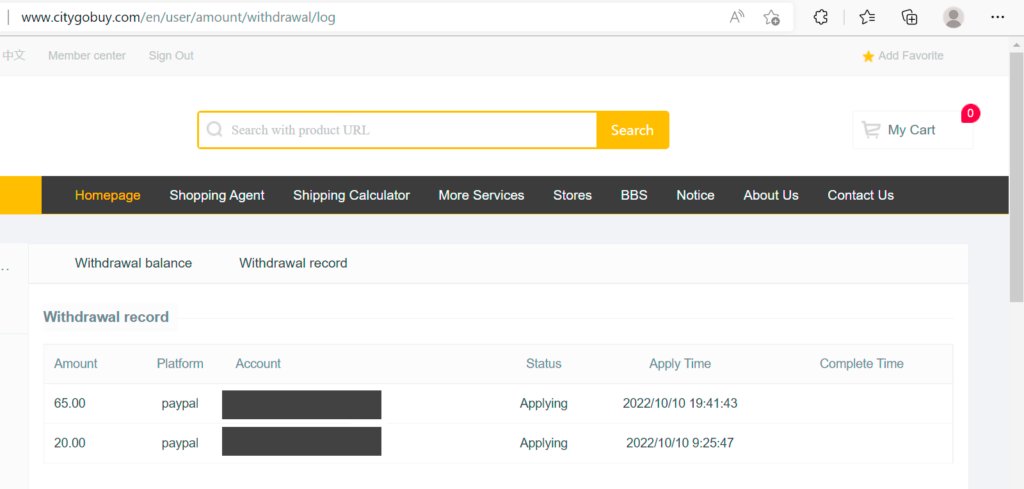 Withholding customer money
Our discord member has been wainting for 3 weeks to get his paypal refund. And he's not the only one, you can read many stories like his on the r/CityGoBuy subreddit. Remember, refunds aren't goodwill, it's the customer's money that they are temporarily keeping in their CGB account.
Other than not issuing refunds, it seems like they are taking money for hauls, but not sending them out. This opens pandora's box of scams, where non-existent warehouse items, fake tracking numbers etc. aren't so hard to imagine.
We talked to CityGoBuy
Sadly, most users are not getting any replies from CityGoBuy or their support. Luckily, we are influential enough where they have to talk to us. In a WeChat conversation, CGB confirmed that they are unable to pay back refunds. Under normal circumstances this would be called bankruptcy, but here it's hard to tell whether they are really unable, or just unwilling, doing what is called an exit scam.
The conversation wasn't that interesting. They asked for another week to compensate customers. We granted this wish, but no one got a compensation. After that week, they continued promising they would update all customers via email today and compensate everyone. None of their promises were kept.
Verdict
We were careful not to reach an early conclusion, knowing that the RepArchive voice is known as a voice of reason. Let's imagine that what they say is true and they are making a recovery, then a premature advice of ours to chargeback would actually ruin any chances of them compensating everyone.
But we've given them enough chances and except for their promises, there is nothing to indicate that CityGoBuy is on a good path. The continuously break their promises, and aren't even able to inform their community. All my attempt to post on their subreddit to connect with customers have been blocked.
I'm still having a hard time, deciding whether they are doing an exit scam with malicious intent or whether they've truly been crushed by the competition and the market conditions. Even if we give them the benefit of the doubt, it's unacceptable that they lose account balances and that they are taking money for parcels and not sending them.
What tips the scale for me is the fact that they are asking for more time again and again, and not releasing any information or shutting down services that they can't fulfill anymore. That's what you would do as an exit scammer, try to drag as many people down as you can by gaining as much time as possible. That's why I believe it's an exit scam.
What you should do
If CityGoBuy took your money, it doesn't matter if they had bad intentions when they took it or not. You deserve it back.
1. Apply for a refund for all your remaining funds on the CityGoBuy website.
2. Try to get a refund/chargeback from PayPal or your credit card company.
Rehearsal packaging is a method to get more precise estimates. Essentially, instead of trusting your agent to issue a refund you send less money upfront. Economically, that has always been wiser, now this affair goes to show that it also protects you from scams. Keep up to date with RepArchive to learn about rehearsal packaging, or read/watch our older guides: link
We are removing CityGoBuy from our shipping calculator and making sure that there's no chance RepArchive could lead anyone into thinking they should use CGB as their agent. That means we're ending any cooperation with them.